It hasn't been much time since HGTV's Flip or Flop' show's co-host Christina El Moussa split with her husband of 7 years, Tarek El Moussa. However, this gorgeous lady has already found a new guy for her. She is dating Ant Anstead. But, soon after her divorce, she dated Gary Anderson for a while. 
Let's find out more about Christina El Moussa's relationship and her divorce with former husband Tarek El Moussa.
Christina El Moussa dated boyfriend Gary Anderson
Gary Anderson is Moussa's family contractor. When Tarek's gun incident took place, Anderson was the eye-witness to the event. He has worked for the Moussa family in the past. Thus Anderson is not someone new to Christina, as they have known each other for a long time.
Also, see: 'Flip or Flop' Star Tarek El Moussa's New Show 'Pick Me Up' Project Begins on Monday
Image: Christina El Moussa, Gary Anderson, and Tarek El Moussa
Christina El Moussa and ex-husband Tarek El Moussa's relationship
Talking about Christina's previous relationship, she married Tarek in 2009 after dating for some time. Christina gave birth to an angelic baby girl in 2010. She looked as adorable as her parents. Christina and Tarek together and named her Taylor.
Also, see: The Flip or Flop star Tarek El Moussa Celebrates his 36th Birthday with his Children
The happiness doubled when they welcomed their second child, Brayden, born in August 2016. Christina was very excited before the birth of baby Brayden, but her elder daughter Taylor was the happier one as she was desperately waiting for a younger sibling.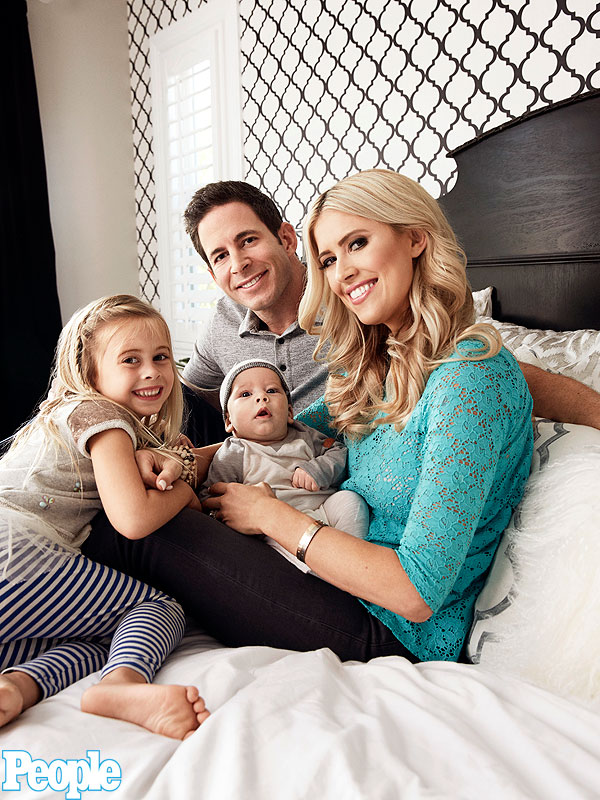 Image: Christina El Moussa and Tarek El Moussa with their kids
It came as a shock when the El Moussa couple revealed about their split. Tarek was really close to his family and kids.
Christina El Moussa's ex-husband Tarek El Moussa was close to his family
He was truly content about having two kids, a daughter, and a son. Moreover, he had even declared that he would leave his work after he gets old so that he can give all of his time to the upbringing of his children. 
Image: Christina El Moussa and Tarek El Moussa with their children
Christina El Moussa and Tarek El Moussa's split
During an interview with the People's magazine, they said,
Like many couples, we have had challenges in our marriage. We had an unfortunate misunderstanding about six months ago and the police were called to our house in an abundance of caution.There was no violence and no charges were filed.
They left all of their fans shocked and amused.
Christina El Moussa's affair with boyfriend Gary Anderson didn't last
Getting back to Christina's relationship with Gary, this pair got along very well. According to the statement, it seems like Tarek didn't treat Christina in the right way.
So, maybe Christina's right man is Gary or maybe they weren't in a serious relationship. These questions are still a mystery unless Christina comes out and clears the confusion regarding the seriousness of her relationship with Gary.
Must Read: Tarek El Moussa's Ex-Wife Christina El Moussa comes in public with her new boyfriend Gary Anderson
Image: Christina El Moussa
Here's the video for you people to know more about the double life of Tarek El Moussa. From his relationships with his wife Christina, the gun incident, controversies regarding the couple, to his split with his wife.
Video: The Double Life Of Christina El Moussa's former husband Tarek El Moussa
From the ups and downs of the personal life, Tarek has managed to pull his professional life aside. Now that his ex-wife Christina looks to have found a new love for her life in the name of Ant Anstead, we hope Tarek also moves ahead and takes care of his children as a great dad.