Everyone surely has heard of the Beatles and the legendary name attached to it, John Lennon. Lennon, born as John Winston Lennon, was an English singer, songwriter, musician, and peace activist. He co-founded the famous band The Beatles along with Paul McCartney, Ringo Starr, and George Harrison. But, after giving his 23 years to music, Lennon died on December 8, 1980, at the age of 40.
Everyone's familiar with his professional life, but his personal life is barely known. John Lennon experienced a huge success in the 1960s, but unfortunately, his married life was not as successful. Well, Lennon was married twice in his life and welcomed two sons from each of his wives. 
John Lennon
Source: Famous Biographies
Well, once again, Lennon's name has come in the spotlight all because of his vintage bike collection. As reported, all of his collections are to be auctioned. Well, today, apart from his collections, we are also going to talk in detail about John Lennon's relationship, married life, and children.
John Lennon Was Married Twice: His Relationships
Talking about Lennon's relationship, he met his first wife Cynthia Lennon in 1957, when both were fellow students in the Liverpool College of Arts. Then, Lennon was of aggressive attitude as he got violent when Cynthia denied his dating proposal. She had said,
"I didn't ask you to fuckin' marry me, did I?
However, Cynthia later got romantically involved with Lennon and often traveled to Hamburg with McCartney's girlfriend to see him.
John Lennon and Cynthia Lennon
Source: Daily Mail
In July 1962, Lennon learned that she was pregnant, and they eventually got married on August 23, 1962, at the Mount Pleasant Register Office in Liverpool with Brian Epstein serving as the best man. However, due to fear of massive fan following, their marriage was kept a secret.
John Lennon and his first wife Cynthia Powell
Source: SFAE
But, the couple's marital relationship soon ended because of Lennon's addiction to LSD. They divorced on November 8, 1968. The court ordered to pay the alimony of $240,000 granting the custody of their son to Cynthia.
Curious about their son, right? We will discuss it below, but let's know about Lennon's second marriage before that.
John Lennon's second marriage
After less than a year of divorce with his first wife, John Lennon found his second wife, Yoko Ono.
The couple got married on March 20, 1969, in Gibraltar. Besides these, no other affairs or relationships of Lennon has been reported. John Lennon died after being shot by a gun.
Even though John is not among us, John does have a fanmade Instagram profile.
Let's take a look at the couple's photo.
However, the issue regarding how they met is still a controversy. Some say that the couple met on 9 November 1966 in the Indica Gallery in London where Ono was preparing her conceptual art exhibit, and they were introduced by the gallery owner, John Dunbar.
But another version explains that John and Ono met in late 1965 in London where Ono was compiling original musical scores for a book, which John Cage was working on.
Well, most importantly the couple enjoyed a lot together. Have a look at the lovely moments they shared.
Many don't know but after the band Beatles broke-up officially on April 10, 1970, his second wife Ono suggested John to move permanently to Manhattan to escape the acrimony, and they did it on August 31, 1971.
John's official Twitter account is still active, maybe his lovely wife uses his twitter to post the slogan regarding the world peace, who knows.
John Lennon, the father of 2 successful sons
John from his two marriages welcomed 2 sons. With his first wife, Cynthia, John welcomed his son Julian Lennon on April 8, 1963. He was named after his paternal grandmother Julia Lennon.
John Lennon with his ex-wife Cynthia and son Julian Lennon
Source: Pinterest
As of now, Julain is a grown up and in addition to that, he is an English musician and photographer. Regarding the relationship between Julian and his father John, he told:
I have to say that, from my point of view, I felt he was a hypocrite. Dad could talk about peace and love out loud to the world but he could never show it to the people who supposedly meant the most to him: his wife and son. How can you talk about peace and love and have a family in bits and pieces—no communication, adultery, divorce? You can't do it, not if you're being true and honest with yourself. 
Bitter words but true though.
Let's have a look at grown-up Julian Lennon.
John Lennon's son, Julain Lennon
Source: Express.Co.Uk
John after his second marriage welcomed his second son, Sean Lennon on October 9, 1975. Have a look at Lennon's moments shared with his wife Ono and Sean.
Sean Lennon currently is an American singer, songwriter, and actor known for his first single album Friendly Fire. Really a proud father.
Let's wish Sean and Julian happy life ahead.
John Lennon's Motorcycle set up for Auction
With the beginning of a new year, John Lennon's vintage collection has been set for an auction. A 1969 Honda Monkey owned by John will be put for a sale at the National Motorcycle Museum. 
Lennon bought the bike in 1969 paying $40,402.20 dollars, and now, it is expected to be sold for $48,000.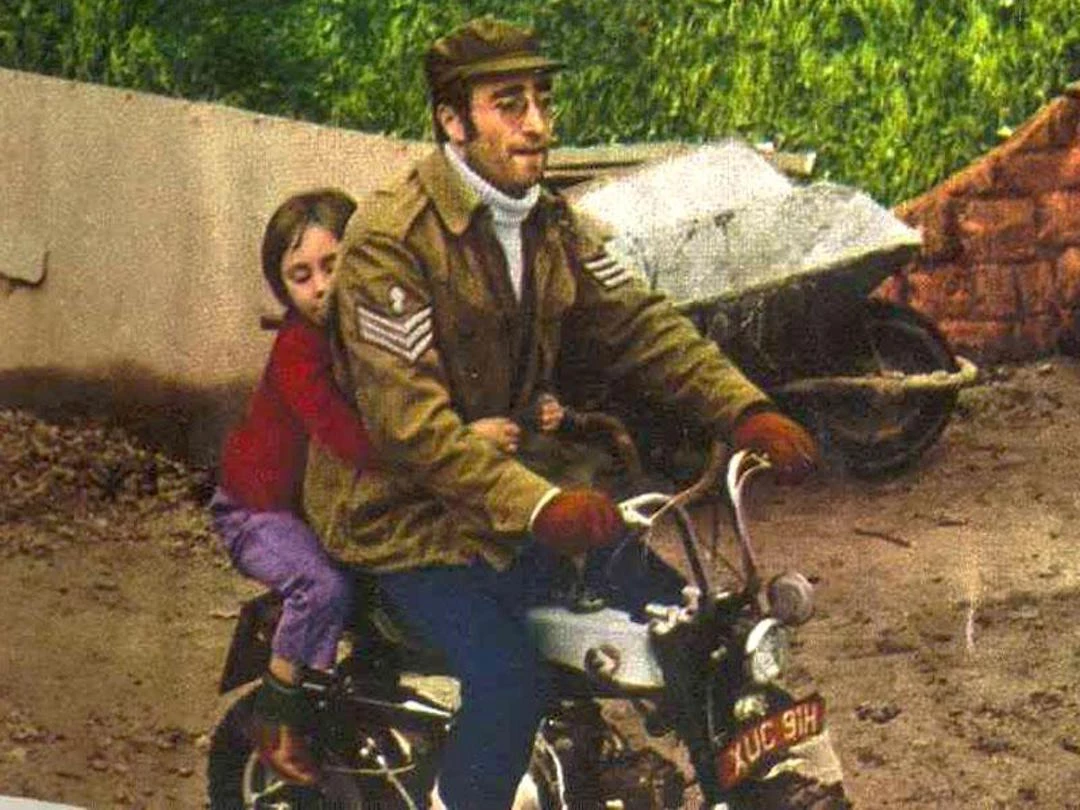 John Lennon's bike kept for the auction
Source: Ultimate Classic
The auction date is reported to be on March 4, 2018. Let's wait for the day and stay tuned for updates.