Luke Bryan is a superstar in the country music scene. He is loved and adored by all whether you like his music or not. But there are other little rock stars in his life that keep him pretty busy most of the time.
Luke Bryan has two cute sons with his beautiful wife Caroline Boyer. The couple welcomed their first son Thomas Boyer Bryan 'Bo' on March 18th, 2008 and welcomed their second son on Tatum Christopher Bryan 'Tate' on August 11th, 2010.
Bryan and wife Caroline lives with their children and nephew
A house with two boys is bound to be full of events. Some squabble and fights between siblings are normal and they sometimes lead to injuries as well. Luke Bryan shared one such story about his kids with Entertainment Tonight. During one of their squabbles, Bo pushed Tate down and he hit a chair and had to visit the Emergency room. Tate got many stitches due to that incident and their cousin Til was face timing the whole episode to them.
Along with his two boys, Bryan and his wife Caroline also welcomed Bryan's nephew, Tilden into their house after Tilden lost his parents. Bryan's older sister Kelly passed in 2007 and followed by her husband Ben in 2014. Bryan and Caroline step up and took a prominent role.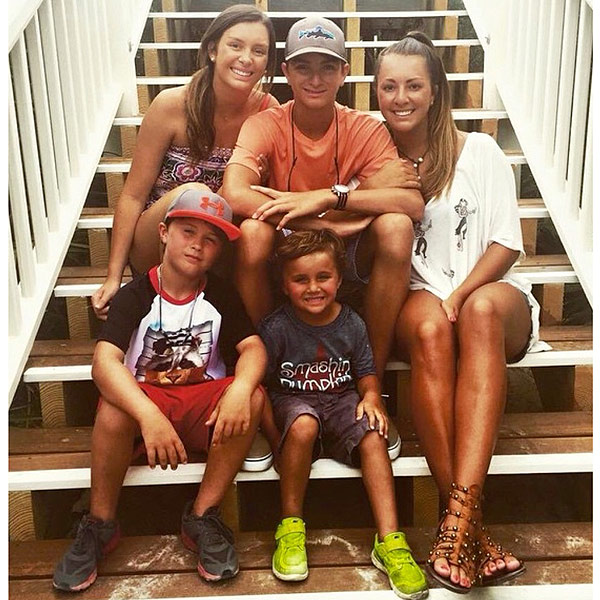 Caption: Luke Bryan and Caroline's children (Bo and Tate), and nephew (Tilden) and his older sisters
Source:countryfan.com
Love Story of Bryan and wife Caroline
Let's talk a little bit about Luke and Caroline's story. Because it sure is a story that will make you believe in fate and destiny.
Luke Bryan is married to his college sweetheart Caroline Boyer. They met back in the fall of 1998 when they both attended Georgia Southern University in Statesboro, GA. They met at a local bar called Dingus Magee. He was a senior in college and she was a freshman.
In an interview, Good Housekeeping Bryan confessed that he was head over heels for his wife when he first saw her,
"It was love at first sight with Caroline- those blue eyes of hers. I knew that no matter what I was going to make my way over to her."
Caption: Luke Bryan and wife Caroline with their children (Bo and Tate)
Source:newsbake.com
Despite looking like a bold man in his music videos, Bryan is actually a very shy person. He didn't want to make a move to impress Caroline and make her uncomfortable.
Caroline told People Magazine that she was the one who made the first move,
"He was always a gentleman. We hung out as friends first and he never made a move on me. I kissed him first. He was always so scared of making a girl feel uncomfortable, he wouldn't cross a line."
But despite being head over heels for each other, the couple broke up and was apart for over five years before finding a way back to each other again in Statesboro.
Bryan recalled that moment in a Huffington Post interview,
"I was playing a little bar in Statesboro and she just happened to kinda be in town. We kinda saw each other and talked a little bit and then started emailing back and forth a little bit. And she was like, 'Hey, you want to come to my family's Christmas party?' I went to the party and the rest is history. "
The couple got married on 26th December 2006 and has been going strong since then. The beautiful pair is happy raising their three kids and they are an adorable family.
What do you guys think about Luke Bryan and Caroline? Please, leave your comments below.