Have you ever seen a Barbie doll in real life? If not then here we present a real-life Barbie doll who is just 11 and has already earned a huge fan following with her amazing modeling skills. The cute little Barbie doll is none other than the Russian child actress Kristina Pimenova.
Let's dig deep into the life of this very young actress. Just stay with us.
Kristina Pimenova Early Life And Career
The 11-year-old young actress Kristina Pimenova was born on 27 December 2005 in Moscow, Russia to a celebrity parent. Her father Ruslan Pimenov is a footballer while her mother Glikeriya Shirokova is a former model.
You won't believe guys but the cute model began her career just before her fourth birthday when her mother sent the photographs of Kristina Pimenova to the agency named President Kids. Initially, Kristina worked for various popular brands like Armani, Benetton, Burberry, and Roberto Cavalli.
Also at the early age of 9, Kristina Pimenova was debated on social media as "the most beautiful girl in the world" and in the same year, she won that title.
Kristina Pimenova is the only kid who just at 9 made it to the cover page of several renowned magazines. In April 2015, Kristina Pimenova appeared on the cover of a renowned Russian Magazine "Vouge Kids".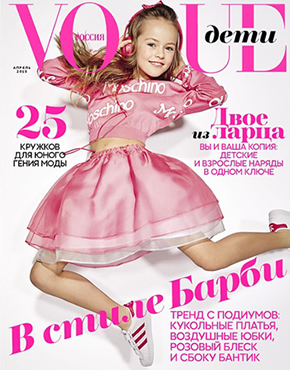 Russian child actress Kristina Pimenova on the cover of Vogue
Source: kids-tokei
The following year, Pimenova moved to California with her mother, and ever since she is living in the United States. In October 2016, a documentary about Pimenova was aired on RTL Television which exclusively talked about the kid's life and her early success.
Acting Career And Criticism
In early 2017, Kristina Pimenova played a post-production part as a singing child in the Italian fantasy film Creators: The Past. In an interview with Posh Kids Magazine, Kristina expressed her passion for becoming a professional actress and film director.
Video: Kristina Semenova - the russian bride - Trailer
Kristina will also be seen in the role of Dasha in the upcoming movie by Michael S. Ojeda, The Russian Bride, a horror thriller. The renowned actors Corbin Bernsen and Oksana Orlan are co-stars of Kristina in the movie and the production took place in March 2017 in Michigan.
Besides, Kristina Pimenova's mother who manages Kristina's social media accounts has been dealing with criticisms for the pictures of her daughter she posts on social networking sites. People, condemned her calling her action to be an example of the sexualization of an underage model. Here are some of her Instagram pictures. Check them out.
However, her mother disagreed with all the claims and completely dishonored all those who considered it to be the exploitation of the sexual rights of a child. Further, she also claimed all the photos she has uploaded to be completely innocent and said;
you must think like a pedophile in order to see something sexual in these pictures.
Mother Glikeriya Pimenova and daughter Kristina
Source: dailymail
We wish Kristina Pimenova all the very best for her future and we hope she achieves everything she wants from her life. For more updates, stay connected with FamousStardom.